DAVID GARRETT
INFO
When Garrett was four years old, his father bought a violin for his older brother. The young Garrett took an interest and soon learned to play. A year later, he took part in a competition and won first prize. By the age of seven, he was playing once a week in public. He studied violin at the Lübeck Conservatoire. At the age of 12, Garrett began working with the distinguished Polish violinist Ida Haendel, often traveling to London and other European cities to meet her.
He continued his studies at the Royal College of Music in London. In 2004, he graduated from the Juilliard School in New York City and was one of the first students to study there with Itzhak Perlman.
At the age of 13, Garrett recorded two CDs, appeared on German and Dutch television, and gave a concert in the residence of the Federal Republic of Germany President, the Villa Hammerschmidt, at Dr. von Weizsäcker's personal invitation. He was offered the use of the famous Stradivarius "San Lorenzo", which is among the best instruments of the "golden period". At the age of 14, as the youngest soloist ever, Garrett signed an exclusive contract with Deutsche Grammophon Gesellschaft. Aged 17, he played with the Munich Philharmonic Orchestra under the direction of Zubin Mehta in Delhi and Mumbai in concerts marking the 50th anniversary of India's Independence.
Two years later, Garrett played with the Rundfunk-Sinfonieorchester in Berlin, under the direction of Rafael Frühbeck de Burgos, and was hailed by critics. This led to an invitation to perform at Expo 2000 in Hannover. At the age of 21, he was invited to perform at the BBC Proms.
While studying at Juilliard, Garrett supplemented his income by working as a model.
Garrett's 2008 Encore on DECCA pursues an aim of arousing young people's interest in classical music. The release contains arrangements and compositions of his own of pieces and melodies that have accompanied him in his life so far. Together with his band, consisting of keyboard, guitar and drums, he gives concerts that include classical sonatas (accompanied by a concert grand piano), arrangements, and compositions, as well as "Nothing Else Matters" by Metallica which was performed on the Public Broadcasting Service (PBS) presentation David Garrett: Live in Berlin recorded in January 2009.
In Autumn 2007, Garrett was chosen by the "Montegrappa" firm (whose articles are distributed by Montblanc throughout the world) as an ambassador for the launch of the new pens from the Tributo ad Antonio Stradivari collection. The event will take place in several different venues, including Rome, New York, Hong Kong, Berlin, and London. On this occasion, Garrett has been offered a Stradivarius from the Gli Archi di Palazzo Comunale collection.
He joined the 9th annual Independent Music Awards judging panel to assist independent musicians' careers. His most recent album, Rock Symphonies, was released 20 July 2010 in USA/Canada and on September 24 in Germany/Switzerland/Austria.
Many tracks repeat.
NICOLO PAGANINI: 24 Caprices for Violin (1997)
DOWNLOAD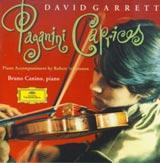 1. Caprice No. 01 in E major: Andante
2. Caprice No. 02 in B minor: Moderato
3. Caprice No. 03 in E minor: Sostenuto - Presto - Sostenuto
4. Caprice No. 04 in C minor: Maestoso
5. Caprice No. 05 in A minor: Agitato
6. Caprice No. 06 in G minor: Lento
7. Caprice No. 07 in A minor: Posato
8. Caprice No. 08 in E flat major: Maestoso
9. Caprice No. 09 in E major: Allegretto
10. Caprice No. 10 in G minor: Vivace
11. Caprice No. 11 in C major: Andante - Presto - Tempo I
12. Caprice No. 12 in A flat major: Allegro
13. Caprice No. 13 in B flat major: Allegro
14. Caprice No. 14 in E flat major: Moderato
15. Caprice No. 15 in E major: Posato
16. Caprice No. 16 in G minor: Presto
17. Caprice No. 17 in E flat major: Sostenuto - Andante
18. Caprice No. 18 in C major: Corrente - Allegro
19. Caprice No. 19 in E flat major: Lento - Allegro assai
20. Caprice No. 20 in D major: Allegretto
21. Caprice No. 21 in A major: Amoroso - Presto
22. Caprice No. 22 in F major: Marcato
23. Caprice No. 23 in E flat major: Posato
24. Caprice No. 24 in A minor: Tema: Quasi Presto - Var. 1-11 - Finale
Free (2006)
DOWNLOAD
1. La Califfa
2. Carmen Fantasie
3. Nothing Else Matters
4. Csardas - Gypsy Dance
5. Duelling Banjos Duelling Strings
6. Paganini Rhapsody On Caprice 24
7. Serenade
8. Flight Of The Bumble Bee
9. Toccata
10. Somewhere
11. Eliza's Song
Virtuoso (2007)
DOWNLOAD
1. La califfa
2. Carmen-Fantasie op. 25
3. Nothing else matters
4. Csardas
5. Duelling banjos (Duelling strings)
6. Paganini rhapsody (Caprice Nr. 24)
7. Serenade
8. The Flight Of The Bumble Bee
9. Toccata
10. Somewhere
11. Eliza's song
Encore (2008)
DOWNLOAD
1. Smooth Criminal
2. Who Wants To Live Forever?
3. Clair de Lune
4. He's a Pirate ("Pirates of the Caribbean" Theme)
5. Summertime
6. Brahms Hungarian Dance No 5
7. Chelsea Girl
8. Summer
9. O Mio Babbino Caro
10. Air
11. Thunderstruck
12. New Day
13. Ain't No Sunshine
14. Rock Prelude
15. Winter Lullaby
16. Zorba's Dance (from "Zorba the Greek")
David Garrett (2009)
DOWNLOAD
1. Summer
2. Nothing Else Matters
3. He's a Pirate (Pirates of the Caribbean theme)
4. Smooth Criminal
5. Csardas Gypsy Dance
6. Who Wants to Live Forever?
7. Thunderstruck
8. Ain't No Sunshine
9. Carmen Fantaisie featuring Paco Pena, guitar
10. Air
11. Zorba's Dance(from the film Zorba the Greek)
12. Chelsea Girl
13. Rock Prelude
14. Dueling Banjos(from the film Deliverance)
Classic Romance (2009)
DOWNLOAD
1. Antonin Dvorak, Humoresque
2. Jules Massenet, Meditation
3. Pjotr Iljitsch Tschaikowski, None But The Lonely Heart
4. Franz Schubert, Serenade
5. Pablo De Sarasate, Zigeunerweisen 1 Moderato
6. Pablo De Sarasate, Zigeunerweisen 2 Un Peu Plus Lent
7. Pablo De Sarasate, Zigeunerweisen 3 Allegro Molto Vivace
8. Edward Elgar, Salut D'amour
9. Serge Bachmaninoff, Vocalise
10. Mendelssohn Violin Concerto 1, Allegro Molto Appasionato
11. Mendelssohn Violin Concerto 2, Andante
12. Mendelssohn Violin Concerto 3, Allegro Molto Vivace
Rock Symphonies (2010)
DOWNLOAD
1. Smells Like Teen Spirit
2. November Rain
3. 5th
4. Walk This Way
5. Toccata
6. Vivaldi vs. Vertigo
7. Master of Puppets
8. 80's Anthem
9. Live And Let Die
10. Asturias
11. Kashmir
Rock Symphonies Open Air Live in Berlin
join files with hjsplit(PC) or Split & Concat (Mac).
Screenshots
part 1
part 2
part 3
part 4
part 5
part 6
part 7
part 8
part 9
part 10
part 11
part 12
part 13
part 14
part 15
part 16
part 17
part 18
Enjoy ♥
Current Mood: hopeful
Current Music: David Garrett- Beethoven Concerto